More Than Meets the Eye
Students reflect on "iceberg illusion" of success
Senior Jinhee Won is involved with several extracurricular activities, holding leadership positions in Science Olympiad and CyberPatriot Club while also participating in several other clubs including Key Club, Math Club and Health Occupations Students of America (HOSA). When people see her, they see her success, excelling in several activities while simultaneously balancing them out with school. What they don't see is what lies below the surface, the hard work that goes into achieving and maintaining that success.
"I spend about 20 hours a week on average on my extracurricular activities," Won said. "Stress and sleep are definitely huge problems for me. I feel pressured to finish everything despite feeling dead inside at times."
This phenomenon of having big concerns below the surface of what people see is known as the "iceberg illusion," the illusion of success. According to many sources, as a society, we often tend to focus only on the outcome and not the hard work that leads to success. Much like an iceberg, we only see the "tip"—the success—and not the rest of the iceberg below the surface— the hard work.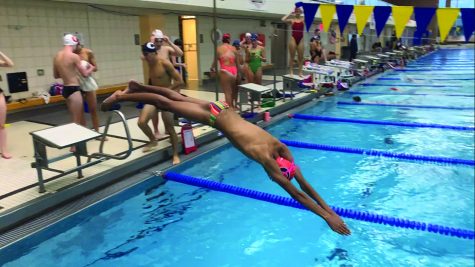 Freshman Aayush Singh, who is on the swim team and participates in Science Olympiad and debate, said his success comes with a lot of hard work.
"For swimming there are about 12 hours a week of practice, for debate about one hour a week, and I spend about four to six hours a week studying for Science Olympiad, so all my extracurriculars with school combined take up about 60 hours per week," Singh said. For him, he said the key to success is time management.
"I just make sure that I don't have any late assignments because if you don't do something as soon as you can, your work starts to snowball. If you stay up for 12 hours each day, then you have 84 hours per week, which is enough time to do everything you need."
Still, he said he sometimes struggles.
"It can be quite stressful to try and manage all of these activities, and I have to make sacrifices for some of them. For example, I can't attend some debate meetings because of swim practice."
Teacher and counseling intern Maggie Stiller believes the iceberg illusion paints an unrealistic picture of success. "People in general are very quick to post and share about happiness, success, and great things going on in their life. People often don't want to post about the struggles and challenges that helped them get to that point." She said the illusion places unnecessary stress on those who feel they have to maintain the appearance of high performance, especially in a more competitive environment such as Carmel High School. "I think that the iceberg illusion is exemplified at Carmel because of how competitive and rigorous the school is as a whole. I would guess that many people feel uncomfortable being vulnerable."
Stiller said the harmful effects of the iceberg illusion are compounded by the fact that it often causes people to compare themselves with others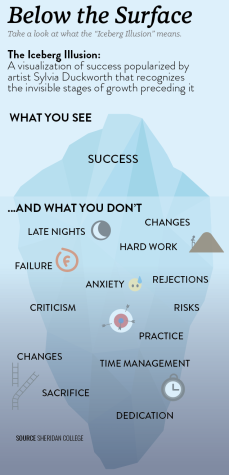 .
"Comparing oneself to others is a natural human instinct which can greatly affect self-esteem, self-value, and self-worth. Many students think that because someone else is smart, then I must be dumb. Or because someone else is pretty, then I must be ugly. Someone else having success in life does not take away from my own person or success."
U.S. History teacher Allison Hargrove said the key to breaking this misconception is through discussion. "There are students who find core groups that support each other in a constructive way. I often see this within my Social Studies Peer Tutoring crew. This is what I encourage students to do. Find a small support group that you trust, that lifts you up, and can give you constructive feedback. In this scenario, you can let your guard down and be yourself— your true, authentic self."
Stiller said personal reflection and understanding that to some extent everyone has their own iceberg illusion can also be helpful. "There are many ways to overcome the iceberg illusion. Some ideas are not comparing yourself to others, taking social media breaks, and realizing that all have unique struggles.
Won said she agrees. "I think everyone has their struggles…(we) all do so much in our personal lives that makes us all unique, but ultimately, we all struggle and put in effort and hard work to succeed."
Leave a Comment