Hockey Highs
Carmel Icehounds hockey team embraces "top dog" mentality heading into season
Nash Cheslock, Carmel Icehounds hockey player and senior, welcomes the mindset that this school has the best hockey team in the state. He said he and his team bring a mentality that every other team hates CHS and this is what drives their successful seasons.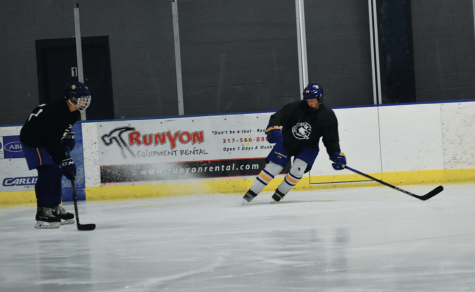 Head Coach Dan Desmond said he agrees with Cheslock and also said via email, "We strive to be successful on the ice and in the classroom and represent our community. We hold ourselves to a high standard and in fact have had a lot of success. Because of that, every opponent we face brings their 'A' game, which means we have to put forth our best effort every time we step on the ice. It's a challenge we embrace."
Matthew "Matt" Didonna, Carmel Icehounds hockey player and senior, said winning is the primary purpose that the team plays with.
"We come into every game with confidence and a purpose," he said. "Our goal is to win games and tournaments throughout the season. We always have our next game on our mind, and we are always thinking about what we can do on and off the ice to ensure that we are prepared for the game."
Much of the success the team has comes from the preparation in between games.
"We make sure we are practicing hard and with a purpose," Didonna said. "After a good and hard week of practice, we can translate our hard work into a game on the weekend."
Desmond said he agrees with Didonna and said the team's performance at games stems only from how hard and focused they practice. 
"(We are successful) through a consistent approach to practice, preparation, and attention to detail," he said. "We have proven over and over again that we play and perform the way we practice. If there is strong focus, effort and execution in practice, it will show up in games as well. Poor practice habits bring poor play and inconsistency on both a team and individual level."
At practice, Cheslock said the team works on several factors of game-play. He said, "We work on timing, playmaking, and in-game situations while incorporating essential skills such as skating, passing and shooting." 

Didonna said the team also works on zone entries into the offensive zone, positioning in the defensive zone, as well as maintaining speed and composure on the ice. 
Desmond added, "We have an off-ice practice, where we work on strength and agility, and two on-ice practices per week. Early in the season, we use one practice to focus on skill development and the other to work on systems. As we get further into the season, we use more of our on-ice time to work on systems." 
While practice is a major reason for the team's history of success on the ice, Cheslock said team chemistry is another reason. This mostly stems from the veterans on the team. He said, "With such a young and new varsity team, it is up to the veterans on the team to lead the way for the newer members so that one day they can lead the team to success."
In addition, Desmond said team chemistry has been built to the point where the players have formed more of a family than just a team. "We spend a lot of time together over the course of the season and very strong bonds are created," he said. "It's a culture we have created and that we talk about a lot. It's a brotherhood, and there is nowhere else any of us would rather be, or play."
Cheslock said he agrees and also said, "As a whole, we all rely on each other to perform at our best, putting forth our best efforts towards the team so we can work as a whole and win."
Leave a Comment