When You Wish Upon A Star
Students, teachers express interest, appreciation for imagineering, process behind Disney's creative attractions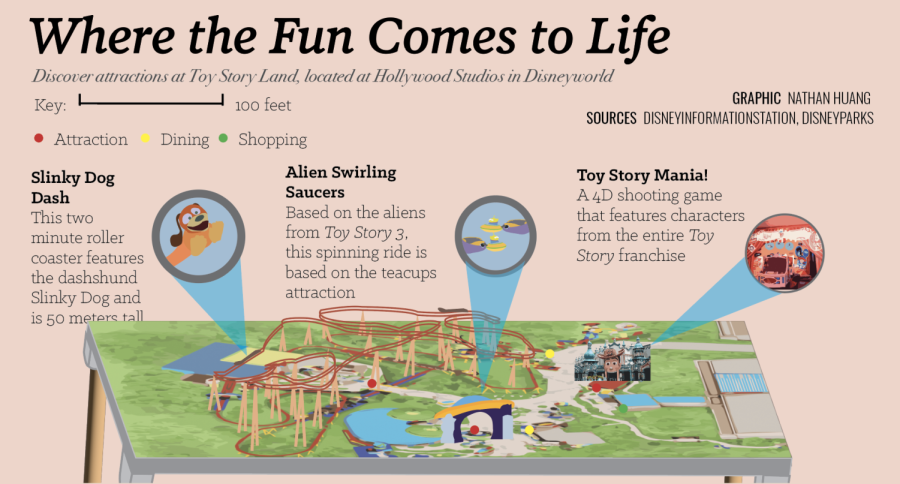 From the movies to the theme parks, Disney is one of senior Lilian Rose's most beloved interests.
"I've grown up with a family that has been obsessed with Disney before I was born," Rose said. "Growing up with this love ultimately developed into me exploring how people made Disney. Eventually I started watching YouTube videos and reading updates about the park, so I got to know about how Disney is made, which is called `imagineering'."
According to Disney, imagineering is the research and development arm of The Walt Disney Company, responsible for the creation, design, and construction of Disney theme parks and attractions worldwide.
"Put simply, it's the magic of Disney," Rose said. "Your job is to create everything from what the floor looks like to the ceiling to the walls."
For senior Ella Joliet, imagineering is a perfect combination of some of her passions.
"Engineering as a field has a limitless number of possibilities for creation. While these ideas are often put toward practical use such as civil engineering and efficiency, the pursuit of imagination is just as important and imagineering incorporates imagination and creativity into physical engineering and construction," Joliet said. "I am going into engineering in college and I loved the docuseries on Disney+ so it's very interesting to me."
Fortunately, CHS has many courses to offer that can help students like Joliet pursue a career geared towards tapping into the creative side of engineering like imagineering. According to engineering teacher Sidney Swartzendruber, the engineering Project Lead the Way classes provide a unique opportunity to explore engineering and discover passions for niches like imagineering.
"Our Project Lead the Way programs offer four years and six different courses in engineering, all of which are designed around the problem solving process. We aren't preparing kids to be engineers at this age, but rather experts in executing the design process," Swartzendruber said. "Additionally, TechHounds, FIRST Robotics club and Science Olympiad club members come to mind when I think of activities that would help students be successful as an imagineer.
But imagineering is not only important to people seeking to pursue it as a career. Rose, who has no interest in pursuing engineering, appreciates imagineering because of the products it produces.
"Imagineering is especially important to me because as a kid, being able to walk into an amusement park and feeling like this is specifically made for you is not something you can get anywhere else," Rose said. "One specific thing I always think of when it comes to Imagineers meticulously planning is the Cinderella statue right next to Magic Kingdom. She's looking down at her slipper, so when you're a child looking up, the lights shine up on her so that it looks like she's happy and your view is very innocent and fun. As you grow older and taller, the angle presents her as more solemn, and that's a really small example of how imagineers show how much detail they put into one thing."
Joliet said her favorite products of Imagineering are Expedition Everest and Pandora in Disney's Animal Kingdom park.
"It takes you through a whole story," Joliet said. "The ride is set through a huge man-made mountain and details the story of a yeti through high speeds and imagery. Another feat of Imagineering is the entirety of Pandora in Animal Kingdom. The Imagineers worked hard to create the illusion of floating islands using vines that look simply draped across the islands as structural pieces of the world. The ride there also uses cool motorcycle-like seats and a 4D experience to make it seem like you are flying on a breathing and flapping banshee."
Joliet furthers upon the importance of imagineering as she said that it showcases the broader context of how our society is advancing.
"Throughout history, art and creative works have always been a sign of prosperity in a civilization, since they have leisure time and extra resources," Joliet said. "The idea that we can show our growth as a society in a technological and creative way is important."
All in all, Joliet said she really respects the work that imagineers do.
"It takes a lot of skill and intelligence. These Imagineers often have practical backgrounds in engineering fields but work so closely with animators and creative teams that they have to have a wealth of knowledge to create these beautiful structures," Joliet said. "On the other hand, Imagineers are not only engineers; there are animators, sculptors, electricians, artists, musicians and a wide variety of professions that make up the Imagineering team."
Swartzendruber said he agrees with Joliet. "You'd have to be quite a self-motivated, innovative mind," Swartzendruber furthers. "You'd have to be okay with the practical, functional part of your brain taking a back seat to the creative and wild ideas that could ultimately shape into a realistic design that will attract the masses. I think you'd have to live and breathe your work, and be willing to do whatever it takes."
The impacts of imagineering can be felt everywhere by everyone.
Next time you visit a theme park, Broadway show, or anything related to the entertainment industry, take a closer look at rides, automation, pyrotechnics, fountains, thematic rides, and even the villages within a park," Swartzendruber said. "Someone had to design and create those beginning with some simple drawings. Those designs became models and prototypes that had to be tested, and they ultimately moved into production."
"It's because of imagineering that things like Disney can be so special," Rose said. "And Disney is for everybody; at Disney you're not an adult, you're a six-year old child again all because of these people's work."
GALLERY: Products of imagineering at Toy Story Land in Disney World
Leave a Comment