A New Barbie World
Students, sociology teacher discuss legacy of Barbie, efforts, progress representing diverse bodies, cultures, races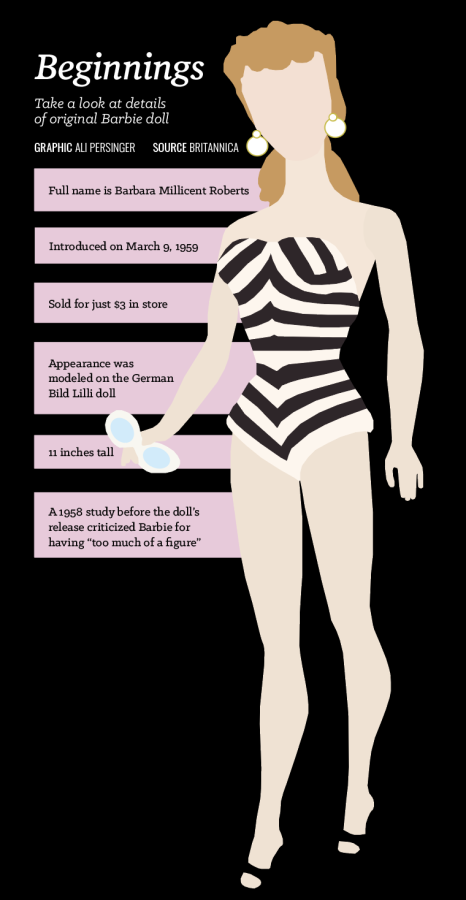 Senior Sydnie Scozzaro has fond memories of playing with Barbie dolls. She said her favorite part of playing with a Barbie was experimenting with the different clothes and accessories that the doll came with.
"I loved to play dress-up with my Barbies, (play with) the different clothes. I got one of the play houses and I would play house with them. I played with them pretty frequently throughout my childhood," Scozzaro said.
Like Scozzaro, millions of children around the globe have played with Barbies in their childhood, and they continue to be a popular choice of doll today. According to Statista, toy giant Mattel sold over 1.3 million Barbies in 2020, making more than $1.5 billion in revenue over the course of the pandemic.
"I like Barbie as a doll in (the fact that) she has definitely transformed into many things over the years," Scozzaro said. "I like that she is able to take that approach of being herself and being able to do multiple different things."
However, sociology teacher Mickey O'Toole said he has a fairly negative view of the Barbie brand. O'Toole said growing up in the 1980s and watching extremely gendered dolls take over the scene initially did not give him a good impression of the doll. He said as he studied psychology and sociology, he started to develop a better understanding of how Barbie was affecting girls in society.
Freshman Sahanaa Nishkaran also said she has a somewhat negative opinion of Barbie as a doll.
"Barbies, to me, weren't very interesting when I was little. I wasn't really sure what to do with them. It was more of a decoration rather than a toy," Nishkaran said. "If (Barbie) dolls had looked like me, I would have looked into how to play with them a little more."
O'Toole said many people have also been affected by the body proportions of Barbie, talking about people who have allegedly chosen to undergo elective surgeries to look more like Barbie dolls.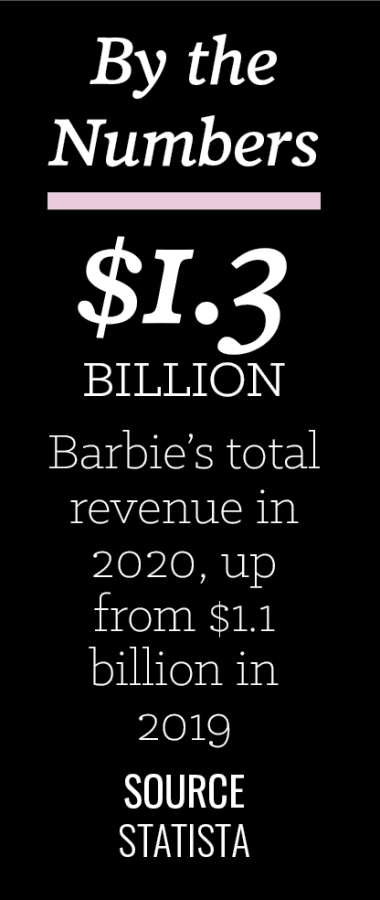 According to a study by Business Insider, if one would extrapolate Barbie's body measurements onto a human, an American woman of average weight and height would need to have a waist of 20 inches, hips of 35 inches, extremely short arms, and a thin neck. The same specialist confirmed that, if a human's body structure was similar to Barbie, they would have to walk on all fours to manage the head weight, and their weight would fall within the range of an anorexic patient.
O'Toole also said Barbie dolls initially reinforced certain expectations for white women and girls and, in the process, completely invalidated females of color who needed representation, a need that is slowly being met now.
"(Mattel is) a typical company where they realize that there is money to be made if they look progressive—where they could have been progressive this whole time, but they are capitalizing on a moment rather than actually being progressive or having progressive ideals," O'Toole said.
But not all of Barbie's attributes are bad.
Barbie has represented many different careers over the years, Scozzaro said they did somewhat influence the way she thought of her potential careers.
"I think (seeing Barbie in different professions) did help. Being able to see yourself be different things as a kid, it plants that seed and idea in your mind that you can be something else, you can be something new," Scozzaro said. "I don't know if it specifically influenced what I want to be…but seeing the different options, I believe, definitely helped."
Since the 1980s, Mattel has released more dolls that represent people of color, starting with Hispanic Barbies. There was a quick influx of African-American Barbie dolls, but, according to a Washington Post article, many young African-American girls did not like their look, as the dolls were primarily dressed in orange, and their body features did not match them.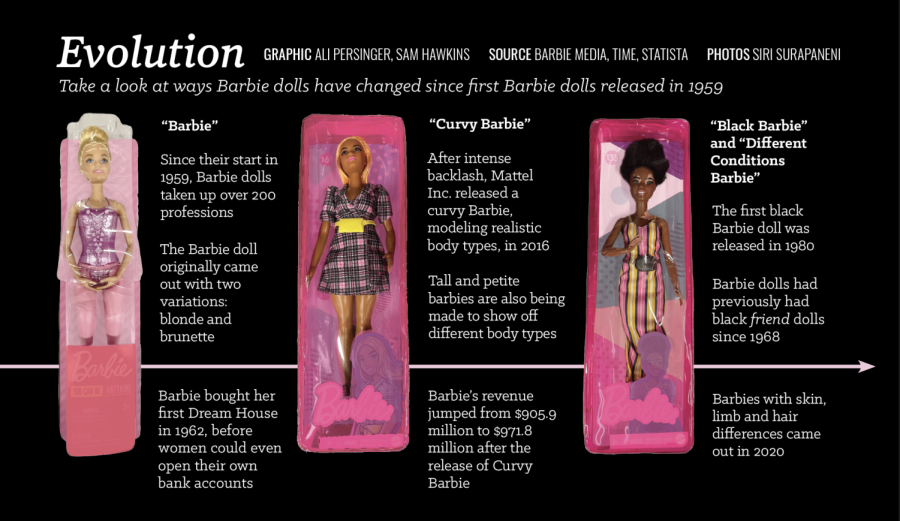 Nishkaran also said she was quite unhappy with the fact that most Indian-looking Barbies were dressed in wedding saris and suits, and there seemed to be no actual representation of what an Indian girl would wear day-to-day.
"We only see (the bridal style of) dress, and maybe there's a few variations, but not much from what I saw recently and when I was younger. I want to see (variety) with the sari, not just a wedding sari, but a normal sari, and a special occasion (type) more fancy sari," Nishkaran said.
For its part, Mattel is working on this issue.
Mattel recently produced an Asian-American Barbie in collaboration with a Chinese designer, Guo Pei, who gave them inputs on styling the clothes, hair and the general face and body features for Lunar New Year of 2022.
O'Toole said, "I do think there could be some impact (of releasing cultural dolls), and I do agree it could be too little too late (in the push for progression), but there has to be a starting point somewhere. I think it's a very tiny step in the right direction, at least."
Leave a Comment