The Art of Potion Making
Q&A with baker, freshman Savneet Dulay
When did you first start to bake and how did you get into it?
I have been baking since I was young—about 7 years old. I at first started getting into it (baking) because I was just sitting around and decided I wanted to make some cookies. I went out, bought some flour, and made chocolate chip cookies. After that I found new recipes and tried new things and I really got into it and really enjoyed baking. 
What makes baking enjoyable?
The smells that fill the house and I like mixing stuff and seeing my hard work all come together and see the separate ingredients turn into these really tasty things.
What is your favorite thing about baking?
My favorite thing is finding new things to try and make and exploring the options available in baking.
What is your favorite thing to bake?
I would go with either chocolate chip cookies or brownies; those are classic.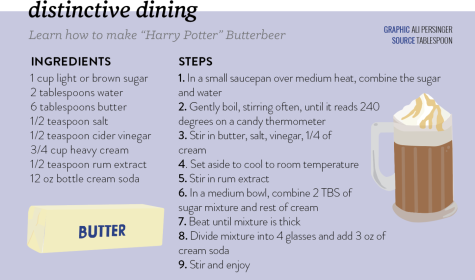 Do you bake from scratch?
 Pretty much all of the chocolate chip cookies I have made are from scratch. But I sometimes make brownies from a box.
Who is your baking inspiration?
Rosanna Pansino, she is a baker on YouTube. I watch her pretty often.  I have watched cooking shows on Food Network for a long time so I get inspired by those people from those shows as well.
Do you see this as a career?
I used to see it as a career because I want to be a veterinarian—I could open a veterinary medical center and also bake dog treats and sell them there—but it has become more of a hobby for me as I grow up.
Who are your role models?
Definitely my mom, she works really hard and I definitely want to grow up to be like her.
What is something you have always wanted to bake and why?
A soufflé: I have never made one before and I want to try it out. 
How often do you bake?
Whenever I find the time, like sometimes I bake for my mom's co-workers because they love the chocolate chip cookies that I make. So every time there is a birthday or something, I make cookies for them.
Leave a Comment