Fated
Students, counselor discuss following fate, making one's own choices for their future
According to the Merriam-Webster Dictionary, fate is a power that controls what happens in the future. It is also said to be the future of a person. Senior Marina Andrews and senior Rekha Muralidaren both say they believe in fate to take care of their futures.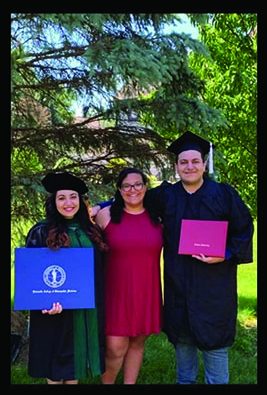 Andrews, is going to the same college as her siblings and father did before her—Indiana University, Bloomington—believes that her fate is to go on to Indiana University and pursue the same career as her family and become a doctor. 
Andrews said, "I hope that my destiny is to become a doctor and help underprivileged kids in countries that don't have the access to a lot of the healthcare that we do at the states,"
Similarly, Muralidaren also said her destiny was to become well-settled in life and said she believes so because being well-settled will bring her respect in society and give her parents a peace of mind.
Both Muralidaren and Andrews said they believe destiny controls their life and what happens, they said they needed to believe in something to make sure that whatever happened in their life happened for a reason. 
"Life has got to have something to go off of," Muralidaren said. "There's a little metaphor my parents used for me when I was younger, the idea of a little notebook (that is) supposed to be our life and it has everything that's supposed to happen written in it."
Similarly, Andrews also said she believed in a higher power that would control her life. 
However,  Harry Pettibone, College and Career Resource Counselor (CCRC) said exploration was a good idea for students to figure out what they like before sticking to a certain profession and deciding on it.
"I kind of don't always believe in fate," Pettibone said. "I believe that one has the power within them to gear or head their fate towards something that they really want to get into. I think you have ownership of yourself and your path to a very large degree…I think you can plan and make your own pathway," he said.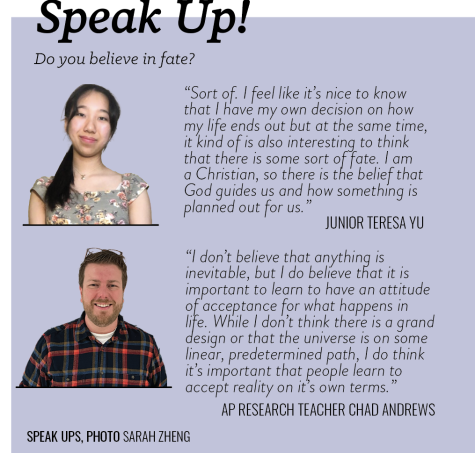 Pettibone said students should use high school and the first few years of college to explore different interests and change their minds as often as they change interests as they can look into many different things to find their niche or passion to work in. 
He said the pressure that student's place on themselves to figure their life out by the time they go to college is not a good thing and that students must take advantage of the vast resources they get at high school to freely look around different career paths. 
On the other hand, both Muralidaren and Andrews say they are quite sure of their future careers of pursuing medicine and that they knew they wanted to go into this career at different stages of their life so far. 

Andrews said she was inspired by her family and being constantly surrounded by doctors, as well as the mission trips they did together. Andrews also said her family being from a different country originally influenced her decision in a huge way as well.
"I've really seen how bad (the medical situation) can be for some people and also experienced the privilege that I have, living here, so I want to help out any way I can," she said. 
Andrews said as she went through high school taking advanced science classes, she started to fall in love with the intricacies of the human body and the way that it all worked, and she said it made her fall in love with the idea of being able to practice medicine as a way to make a living. 
Muralidaren said that, although she tried to go away from medicine as a possible career path at one point, she found herself drawn to science and kept coming back to it, to where she said she decided to pursue it as a career. 
"I did have this pressure to go into pre-med," she said. "But, with that, I first started to diverge from it, and ended up choosing computer science, and that let me find out that (computer science) wasn't it for me and ended up leading me back to (pre-med science paths)" Muralidaren said. 
Andrews said although she similarly felt pressured to keep up a standard of hard work that had been set by her parents, she was grateful to it as it gave her the strength to continue with hard classes and said that she would not change anything. 
Pettibone said the highly academic nature of CHS as a community is also a pressure for certain students to choose specific academic career paths and said he believes that students should be allowed to ultimately choose what they decide to do in life. 
Regardless, Muralidaren said, although one could make certain decisions, fate would always bring them to where they needed to be, whenever it should happen.
"You can make whatever decisions you want, but the end goal is going to be something specific that you divert to, at one point or another without you realizing," Muralidaren said.