Lights, Camera, Magic
Tech theatre teacher, students reflect on use of special effects in productions
Magic is essential to the "Harry Potter" movies and how an audience perceives them. According to an article by Broadway Direct, the "Harry Potter" movies use artistry behind the scenes, such as computer graphics and scene changes, to create the appearance of transformations, flying and other magical effects. However, in the theater production of "Harry Potter and the Cursed Child," producers were faced with a challenge as they had to create the shape-shifting effects of Polyjuice Potion and other magical occurrences before an audience's eyes.
The technical theatre department faces simlar challenges as members must often make an audience see magical occurrences in plays and musicals. According to Andrew Okerson, tech theatre teacher and auditorium director, creating the scenes is a fun puzzle to solve.
"The fun part is that the script that we get is typically where we start on these things. And it will say, for instance, a character flies in. That's all we get," Okerson said. "So then it's our job to figure out how to do that practically and safely in a way that can make the audience feel like it's magic."

Olivia Sumner, stage manager for the fall play and junior, said an example of special effects the technical theatre students are currently working on is pyrotechnics, or creating a fireworks display on the stage.
Sumner said, "We're doing pyrotechnics right now for our fall play. So, (to create that effect), we're having a fire on stage."
Another special effect frequently used by the technical theatre crew is dry ice. Okerson said many plays need a cloud or fog in a scene, for which the students use dry ice to replicate.
"Last year, on (the musical) 'Mamma Mia,' we had to do low-lying fog effects. So we had 500 pounds of dry ice that we had to handle safely to create this billowing cloud of fog," Okerson said.
Elliot Clancy, technical theatre student and junior, said they will be once again using dry ice in the spring play, "Joseph and the Technicolor Dreamcoat," to create a fog effect.
"For our spring play, we're going to have a lot of dry ice (to create) fog," Clancy said.
According to Okerson, technical theatre students will also create the effect of flying in the spring production through the use of a chariot that will carry the main character through the set.
"We have a bunch of fun effects coming up in 'Joseph and the Technicolor Dreamcoat,' our spring musical," Okerson said. "We're creating a chariot that's going to carry Joseph through the gym."
Aside from using objects like dry ice and fire to create a magical effect, the technical theatre students often have to make objects disappear on stage. According to Okerson, the challenge they faced is similar to that of "Harry Potter's" producers in the scene of "Harry Potter and the Sorcerer's Stone" where Harry Potter lands in the snake display.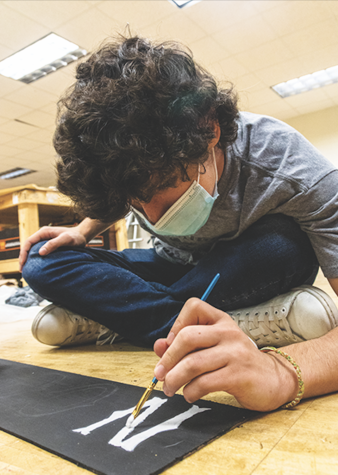 Okerson said, "To connect it back to 'Harry Potter,' Harry Potter falls through the glass and the glass disappears and he lands in the display with the snake. How do you make that happen and make an audience believe it? That's our job."
To create the effect of objects disappearing from the set, Sumner said shift changes are crucial. According to Sumner, tech theatre students often have to quickly remove objects as the audience's attention is diverted. 
"We had a shift change once where we had to really quickly take a bunch of stuff off while everyone was focused on a different thing. So (the) things (we removed) just magically disappeared (to the audience)," Sumner said.
Clancy said he plays an important role in these scene changes as he's in charge of making sure all the pieces are removed and set as necessary for each scene. 
"I'm doing running heads. So, (for) all of the scene changes, I'm in charge of that stuff and making sure each set piece and some of the props are set (for) each scene," Clancy said.
According to Sumner, these scene changes are essential to having a magical effect on an audience. 
Sumner said, "We just have to be on top of everything and kind of be perfect every time or else the whole effect is gone."
Leave a Comment