Experimental
Q&A with Pol Berger Romeu, STEM Research Club member, junior about passion for research, experimenting
Where did your passion for experimenting come from?
During freshman year, I started to get really interested in biology and started to read lots of books about several different topics in the field. I then met a senior through a club that told me that he was doing research at Purdue University. Once he explained his project to me, I knew that I wanted to get started on my own project. That summer, I contacted a professor at Purdue and got started with researching towards the end of that summer.
How long have you been working on this project?
I have been working on my current project since the start of sophomore year. I was planning on adding on to what I had done last year during this school year, but I've had to postpone it due to COVID-19 as Purdue's labs are closed.
What experiment did you do last year for the club and what will you do this year?
Last year I purified 'F1F0 ATP Synthase'—a protein found in the inner mitochondrial membrane that is responsible for the production of the majority of ATP in eukaryotes—and put it into an artificial membrane to then see if I could speed up the production of ATP using UV light. This year, I planned on running different experiments using the same setup to find other ways to increase the production of ATP, however, I haven't been able to start as the lab I normally work at is closed and I am dependent on some of the equipment in the lab.
What project are you planning for this year?
As stated earlier, I can't do the project that I initially wanted to do, so now I'm back at square one trying to find another gap in research that I can look into. Since working in a lab is going to be very tough this year with the pandemic, I plan on competing in innovation competitions that just require proposing a solution to a problem without actually having to do the physical experiment.
What does STEM Research Club do with its members' projects?
At the club, our main goal is to help our members get involved in research and then help them participate in whatever competitions they want to compete in. Additionally, we plan on having our members present their projects to younger middle and elementary school students to let future high school students know of all of the different opportunities they will have open to them in the STEM field.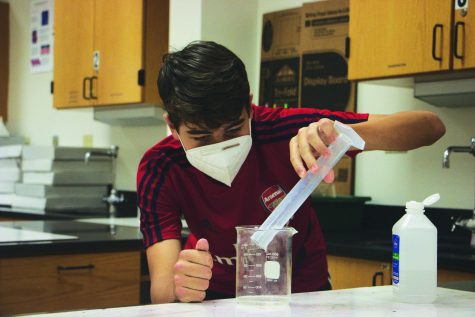 How do you think experimenting has impacted you as a person?
Research has had a really positive impact on me as a person. Outside of letting me explore my interests, it has made me a much more resilient and driven person. Throughout the research process, things always go wrong and you never get the results that you want on the first attempt, (but) overcoming those failures makes the end product so much more rewarding.
If someone wanted to start their own projects and experiments, what would be your advice for them?
I would tell them to go for it. Research can be done in any field, meaning that there is a project out there that aligns with anyone's interests. Once you have started doing the research, be patient. Don't worry if you don't get the results you want—figure out the problem and try again.