In the Top 1%: Tennis
Senior Presley Thieneman, top ranked men's tennis player in Indiana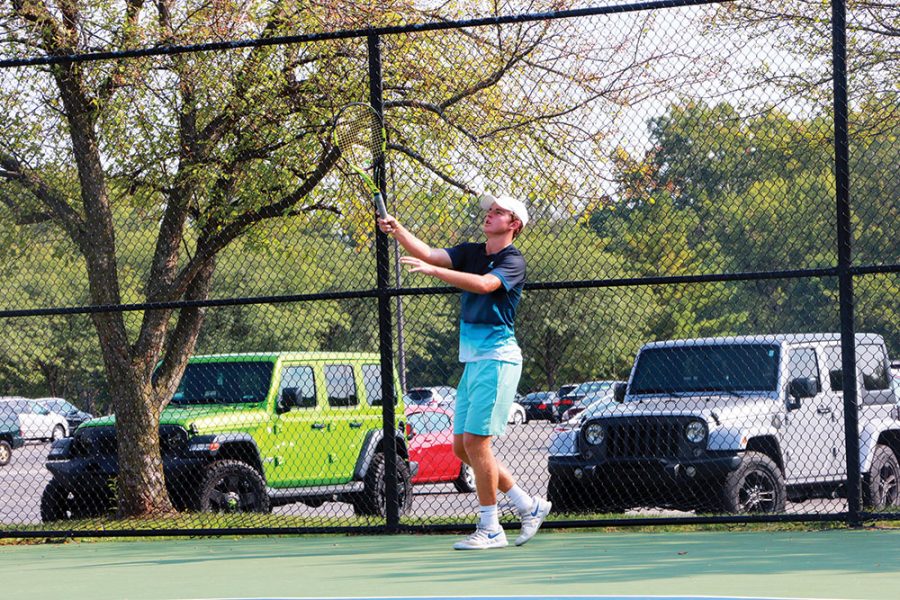 What are your accomplishments in tennis?
I won the Indiana state title, so I'm (ranked) number one in Indiana, and I'm currently 36th in the country, which has been my highest ranking in five to ten years. I (also) travel around the country a lot for tournaments. I moved here sophomore year, so my sophomore and junior year, we won the state title.
How did you first get into tennis?
I have three older brothers, so I was always watching them play, and I just really wanted to play, and I convinced my parents that I could play at a young age and I started at age 6.
When did you decide it was something you wanted to pursue in the future?
I would say sixth or seventh grade, because I used to play a ton of sports, so I played basketball (and) baseball. In seventh grade I realized I loved tennis, and I wanted to try to be really good.
How often do you train?
Weekly, five days a week at least, and that's not only practicing tennis but training physically. The five days a week doesn't include tournaments on the weekend, so it could be seven if I have a tournament.
When did you start getting recruited, and why did you choose Northwestern?
The process starts junior year in September, so that's when all the coaches started to contact me. I committed in May of 2019. In my junior year. I chose Northwestern because of the academics and the tennis as well. It was a good combination, and it's close to home.
What are your long-term goals? Are you interested in pursuing tennis in the future?
My long-term goals is for sure to go pro, but I'm going to see how I do in college, and if I'm not good enough to go pro, I'll just use whatever I learn in college and maybe do something in business.
Leave a Comment