Mental Minute
Throughout Carmel High School new mental health services arise in efforts to help students
Due to pressure teens face, they often compromise their mental health. A Pew Research study found that 61% of teens say they feel pressure to get good grades and 21% felt pressured to be involved in extracurricular activities and perform well in sports. As a result of these expectations for themselves, 70% of teens said anxiety and depression are major problems among their peers.
In order to assist students as they deal with mental health issues at this school, social workers and therapists offer many services. According to Behavioral Health Counselor Christa Watson, they offer services including referral therapy and referral information.
Watson said, " There are three social workers who provide services for students in grades 10-12 and one social worker for the freshmen. They are employees of CHS and provide counseling, referral information, resource assistance and so much more. The other therapist and I provide therapeutic intervention including individual therapy, family therapy, group therapy, skills training, behavior support, and referrals to community partners. We also provide referrals for medication management."
With expansion of therapy services offered at this school in the past year, Behavioral Health Counselor Jared Broschart said services have become more accessible for students.
"After being referred by a guidance counselor, the students are able to start utilizing the services by completing an initial assessment. We are then able to schedule individual therapy sessions on virtual or in-person days," Broschart said. "It's normally more convenient for students and families to have these services offered in school, as it is a familiar setting for the students and does not require them to leave the building."
Efforts to improve mental health service accessibility have been made by students at CHS as well as administration. Emily Hathaway, Active Minds club member and junior, said Active Minds works to raise awareness of mental health issues and provide better resources at this school.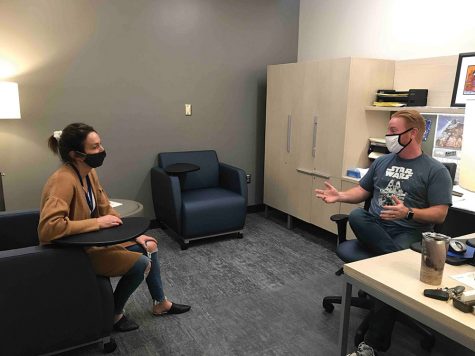 "Primarily we talk with a committee of teachers here at Carmel who want to provide better mental health resources and care for the students at Carmel. In Active Minds, as a mental health awareness club, we have discussions on possible improvements to the systems we have (and) new system possibilities," Hathaway said. "It's important to promote mental health advocacy and mental health services in order to reduce the stigma of mental health and motivate those who would like support to actually seek it out when they want or need it."
Similarly, Active Minds member and junior Kierstyn Hubbard said it is necessary to provide mental health services and raise awareness to reduce the stigma surrounding mental illnesses.
"Raising awareness of what mental health and mental illnesses actually are can normalize discussing their effects and healthy coping strategies, and can let anyone who may be struggling know that they are not alone, and they deserve to seek help to live a better life," Hubbard said. "Mental health services can help provide an outlet for anyone who may be struggling, which can help support individuals working through mental illnesses, or any kind of issue in their life."
Hathaway said the efforts this school has made in its partnership with Ascension St. Vincent to make mental health services more accessible can benefit students. According to Hathaway, these services not only benefit those in need of them at the time but students as a whole by reducing the stigma surrounding mental health.
"I think offering these services contributes to removing the stigma surrounding mental health, simply by talking about it more and making it a reality and bringing it into perspective. But I still believe we have a stigma between the students on needing mental health. As a society, we're rather individualistic and I think because we're such a huge school, personal mental health gets lost in the numbers. (Due to this) people have not been praised enough for reaching out when they need help (due to mental health problems)," Hathaway said.
Although these services contribute to reducing stigma as a whole, Broschart said they can individually offer help to students in need of them. According to Broschart, therapy provides students with a safe place to talk about any issues they face.
Broschart said, "Our services provide students with a safe space to talk about anything and everything. We talk about an array of topics (such as) depression, anxiety, trauma, family, (and) LGBTQ+ to help students feel more supported and learn coping skills."
With these new services being a resource for students to receive the help they need, Hubbard similarly said it could assist students with coping in a healthy manner.
According to Hubbard, "No matter how big or small a student's struggle, having access to resources such as individual (therapy), group therapy or behavior support at school can help them work through it with a licensed professional and help them develop coping skills to address their issues in a healthy and productive way.
Leave a Comment