On The Radar
For senior Griffin Scott, the performing arts department at this school plays a large role in everyday life. As a member of Select Sound and Ambassadors co-president, Scott said he dedicates a lot of time to memorizing songs and choreography to perform to the best of his ability.
"There's both positive and negative pressure," Scott said. "It's positive in the way that you work hard and get to create some pretty incredible shows, musicals and vocal ability, but there are also some negative pressures as well. Negative in the way that we're worked pretty hard, but it's ultimately in a way that you can experience the 'real world' in high school."
Ambassadors is one of the oldest show choirs in the United States, gaining a formidable reputation for high-quality performances and high skill level over the 50 years since its founding in 1971.
Similarly to Ambassadors, the women's swimming and diving team is also known for its skill and competitive nature.
"No one wants to lose that 35-year streak and it just pushes us everyday to work hard and ensure that doesn't happen," Gretchen Lueking, swim team member and junior said via email. "I have high expectations for myself but I really just try to have fun. I love being with my best friends and teammates at practice and having them by my side is amazing."
According to Lueking and Scott, the expectations surrounding both choir and swim team do not feel as significant when compared to the payoff from succeeding.
"Whether (the end product) is a competition set, the Holiday Spectacular or just concerts in general, at the end of the day you get to hear the big round of applause and it's a really rewarding feeling," Scott said.
Expectations and success is not limited to choir and swim, however. Competitors throughout all of CHS performing arts and athletics programs put a lot of work into their end goal in order to succeed.
"You have to take time to celebrate (your successes). It is a lot of work and if you can't find enjoyment in it then you're losing out on why you're putting in your time," Ryan Osborn, head coach of men's basketball, said.
The men's basketball team recently won their state championship against Lawrence North High School and Osborn said the feeling of achievement after winning validated the team's hard work and dedication to bettering their performance.
Similarly, Scott said a lot of his motivation comes from the desire to succeed and produce a great final product.
"Performing arts people in general are pretty self-motivated and we put a lot of pressure on ourselves to perform well, simply because we don't want to let people down. We want to do our best," Scott said.   "There can be some pressure and expectations set on us by our directors, but it's just because they want us to succeed the same as we do."
Similarly to performing arts students, Osborn said he thinks the men's basketball team players' motivation comes from themselves, and most expectations set within the team are personal goals to help team members to improve.
"I feel like a lot of expectations to be your best are created at home, and self-motivation is a big factor in being successful, whether it be in basketball, the classroom or performing arts," Osborn said.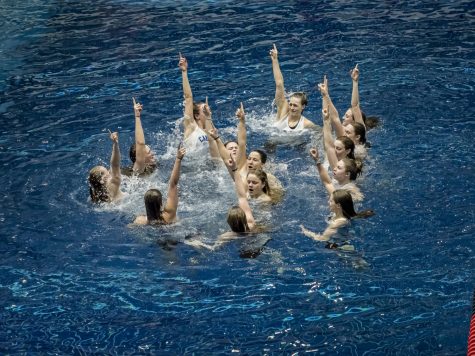 He said the men's basketball team's motivation for success remains constant throughout the season, and they train similarly for a normal game as they would for a large-scale competition. Osborn said the teams CHS competes against have a similar mentality towards competition, and the ability to play against such skilled teams is a great opportunity for the men's basketball team.
"(Basketball coaches) make practices challenging as a part of the process," Osborn said. "I feel like our teams do a good job taking advantage of those opportunities and that's a large reason why we're able to grow so much throughout the basketball season."
Lueking also said a lot of the pressure she feels is from herself. She said she and her team expect themselves to perform well in competitions, and team members try to push each other to succeed in every way they can.
Osborn said, "Pressure, to me, typically means being uncomfortable, and in every uncomfortable situation I've been in I feel like I've come out better. While there may be some pressure and high expectations, the more you're exposed to pressure the better you get at what you do."
Leave a Comment