Workin' It
Students look at motivation for, importance of obtaining first job in high school
For Kirby Biggs, employee at Some Guys Pizza and junior, starting work at a young age meant more financial freedom, independence and learning opportunities. However, because of child labor laws in Indiana, students must wait until they turn 14 to begin working, even with a work permit or parent approval.
However, Biggs said she does not see age restrictions as a downside and believes they can even be a motivator for individuals to obtain a job when they come of age.
"I've always wanted my own money so I remember always trying to babysit other people's kids," Biggs said. "So when I was 14, that was the first thing I wanted to do was get a job and be able to make my own money."
Michael Morfas, Rosie's Place employee and sophomore, said he agreed age limits can be motivators in acquiring jobs.
"I think it was (a motivator)," Morfas said. "A lot of kids are excited about getting jobs when they're younger, and it's kind of like driving, where by the time you can do it, you just want to do it."
While students cannot legally start work until they turn 14, both Morfas and Biggs said working at a young age in high school can have positive effects including learning life skills, time management and financial independence.
According to a 2019 Pew Research study, however, teenage employment decreased from 44.7% in 1948 to 29.2% in 2018, but not because of a lack of motivation in students. Rather, in a 2015 National Center for Biotechnology Information report (NCBI), researchers claimed that many students may not be interested in working because of the hardship of balancing school and work, along with the increased intensity and importance of education.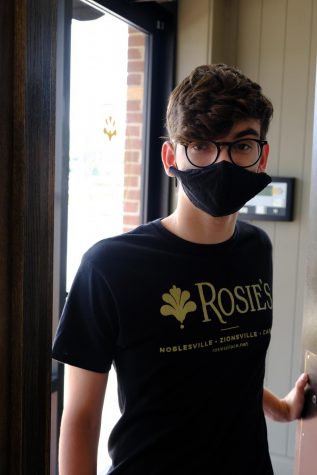 Counselor Katherine Barsten said school performance is one of the only negatives to having a job as a high school student.
She said, "I sometimes see kids who work late hours and this affects their sleep, which in turn affects performance in school."
Still, she said, "Having a job can be great practice for time management and balancing academic and extracurricular commitments. And (it) broadens students' views beyond academics."
Additionally, Biggs said she understands how school can invoke stress and discourage students from applying for a job. Morfas said he agreed and also said while focusing on school and academics is a good option, he still encourages others to apply for a job as it can have multiple benefits.
As a solution to balancing school and work, Biggs said she suggests busier students take on smaller jobs during the summer, such as lifeguarding.
Even though the Pew Research study showed an overall decrease in teen employment, it still indicated a trend of increased employment during the summer. This further added to Biggs' point that more occupied students have free time in their schedule to take on jobs in the summer.
Biggs said she also suggests students inform their employers and managers about their schedules.
"At the end of the day, you have to tell them that you are a student, so there will be limitations to the hours you can work and things like that," she said. "Before I did that, I was working about four days a week. That was really challenging with school and having no time for studying. I eventually just dropped it down to two to three shifts a week, so that (helped) me way more (with) time management."
Although finding a balance with school, work and other activities can be hard, Barsten said working as a high school student can provide for skills that can be used later in life. Moreover, she said working as a high schooler allows more freedom and independence for students.
"Working at a young age helps students to develop an understanding of how they can fit into society," she said. "Depending on the job, students get a chance to interact with a variety of people in the community, and also to understand the value of working for things they want or need."
Morfas said the freedom he enjoys the most is the financial independence he has with his job.
"(Having a job) helps people learn responsibility… but also (money management). It teaches you how much things actually cost," Morfas said.
He also said he feels a sense of accomplishment purchasing goods with his own money, instead of having to rely on his parents for purchases.
Biggs said while working at her current job, she has learned more about responsibility and other life skills, which she believes will be beneficial down the road.
"I think it's important to get a job during your high school years because it teaches you a lot, especially food services and smaller jobs," Biggs said. "Just not having to depend on your parents for money, yeah, that's easier, but (having a job) teaches you work ethic and how to work with other people, even if you might not like them. Just overall you develop a whole new skill set."
Leave a Comment