A Family Affair
For some students at CHS, work and family overlap into what most call family businesses. Family businesses are common throughout many households around the United States. However, sometimes the children of business owners take on more tasks and responsibilities. For Avery McQuillan, stepdaughter of the Greek's pizzeria owner and junior, this is the case.
According to McQuillan, she has worked at Greek's Pizzeria many times, but she said she feels she is put up to higher standards and more responsible for what happens because her stepfather owns the restaurant.
"I do get special treatment just because it is my (stepfather) that owns (the restaurant)," McQuillan said, "but he's also harder on me just because I should know how to do everything, I should know how to make a pizza. It's good and bad just because there's the high expectations that I want to work up to."
Greg Abes, Greek's Pizzeria owner and McQuillan's stepfather, said he could see the truth to McQuillan's claims.
"The negative is that since they are my children I hold them with higher expectations than I would for some of the other kids that work for me," Abes said.
However, despite the higher expectations, McQuillan said she still feels encouraged to work there, especially when she hears about the behind the scenes hardships and struggles.
"(The hardships) encourage me to work harder just because I feel I set an example especially for the servers just because I've done that (job) the longest," McQuillan said. "I've done that for two and a half years, so I feel like it's kind of my responsibility to do the best that I can so (my colleagues) can see how they should be working."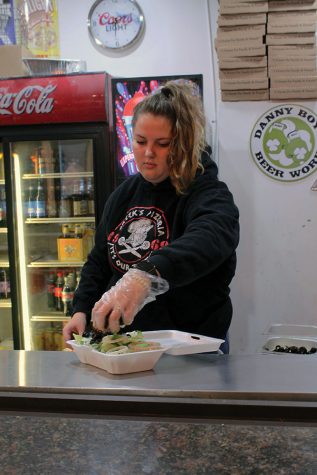 Like McQuillan, Zachary "Zach" Guo, son of the Number One China Buffet owners and freshman, said he also feels added pressure at his workplace.
"If a customer is unhappy, I sometimes feel I'm responsible for making them dissatisfied," Guo said.
Guo also said he is held to higher expectations and standards when he works at the restaurant. "I feel like (my parents) have higher standards because (I'm their child)," Guo said.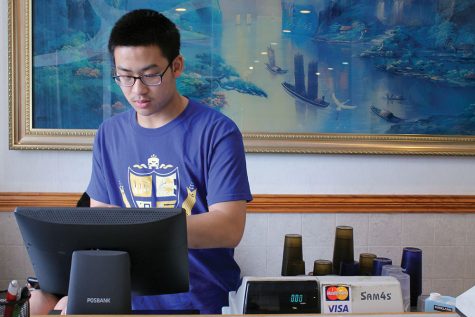 When Guo encounters hardships, he said he could handle them. "Some of (the hardships) might encourage me because I'm good with them," Guo said.
Guo's parents, however, said they use the hardships of running their restaurant in order to encourage Guo to pursue a different line of work.
"(My parents) encourage me to try to go to a good college and get a better job because of (the hardships)," Guo said.
According to McQuillan, both her parents are not against the idea of her running the restaurant in the future, but said she needs more time to consider that option.
"My mom really wants me to be a manager…after senior year she wants me to manage that summer," McQuillan said.
"I'll just be talking about something that happened at work and my mom will be like, 'Wow, you handled that really well, you should be a manager,'" McQuillan added.
McQuillan said that her parents liked the idea of her getting a better position at the restaurant or even running it in the future.
"My step dad isn't against it, but I'm just so young still," McQuillan said.
Abes said, "It actually would be nice to have a family member to take Greek's Pizzeria over, I've worked really hard to grow the business and I do it for my family, so to have someone within the family run it, I feel like they would take care of it as I would and as I do."
However, whether her parents want her to run Greek's Pizzeria, McQuillan said her sister, Julia McQuillan, a freshman at IUPUI, out of her two siblings, would be best fit to run the business.
"My sister is basically a shift lead, so she's not a manager but she's also not just a normal staff member," McQuillan said. "She's been working there since we opened (Greek's Pizzeria), but she's in college now; she goes to IUPUI so she doesn't work there as much, but I'm sure if she came back and remembered how to do stuff, she could for sure run it. She's probably the strongest (from) the people in the back just because she's been there for so long."
On the other hand, according to McQuillan, her brother, Nate McQuillan '19, who is now a freshman in college, seemed like a less likely candidate for running the business.
"I don't think my brother would want to (run the business) at all," McQuillan said. "I actually don't think my parents would ever be in that position to ask him. He's not irresponsible; he's just not driven."
Additionally, McQuillan said her sister was interested in the business department, wanting to even open her own bakery, another reason why McQuillan said her sister was better suited for running the business.
McQuillan said she would not likely run the business in the future, but if it came down to her running it, she said she would do it.
"If I were to stay close and go to IUPUI like my sister did, I would probably work there and be in a manager position," McQuillan said. "But I don't think I would ever run Greek's, unless it absolutely came to it."
McQuillan also added that if she had to run the business, she would be able to do it well.
"I do think I could run (the business) well just because I've been there so long and even when I was in middle school my parents would show (me),'' McQuillan said. "I still went in and I folded boxes or I would serve some tables if it was busy."
Likewise, Guo also said that if it absolutely came to him running the restaurant, he would do it.
"I'd think I'd only really have to run the business if my parents had special circumstances that made it so that they wouldn't be able to," Guo said. "I feel like that would be the only time."
For Guo, he also said he would be able to run the restaurant, knowing what tasks to do and how to them because his parents taught him how.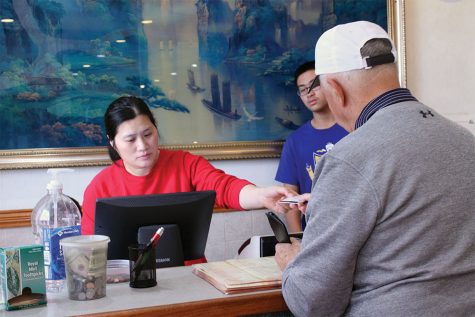 "I think I would be able to because my parents have already actually taught me a lot of how to do the job in the restaurant," Guo said. "They've taught me how to run the cash register, how to clean dishes how to change out light bulbs or any type of tasks like that."
Regarding the children of business owners in general, Abes said he does not think most children of business owners feel obliged to work for their parents' businesses, which is why he does not want his kids to either, and that it would completely be their choice.
"I don't think (children of business owners) feel obliged to work (for their parents). I definitely don't make (my children) feel obliged to work (at my business)."
Overall, Abes said he sees the family business as a positive for his family.
"The positive is with (my children) working (with me) I get to spend more time with them, as opposed to most families who when (their) dad's go to work or moms go to work they're away from their kids."
According to McQuillan, her stepfather's goal is to open 10 Greek's Pizzerias in total and have full time managers run them, but whether or not McQuillan decides to be one of those managers, she said she would still work there and do a decent job at running one of the restaurants if she had to.
"I'll still work there throughout high school and probably throughout college," McQuillan said. "I feel like I could run it pretty decently because I've had the experience just seeing everything happen over the years."