Making The Move To America
Students, staff reflect on being first-generation American
For Mariam Tawadrous, first-generation American and sophomore, her "norm" today hasn't always been her norm. Having lived in the United States for only five years, she's been through many new experiences that differed from her life back in her birth country Egypt. In that time, Tawadrous said she's had fun learning English, meeting new friends and experiencing a different school system.
"It's fun to just see new stuff a lot," Tawadrous said. "It was fun to learn a new language and teach my family English… (and learning) how the schools work, meeting new people, speaking different languages."
Tawadrous isn't alone in assimilating to a new culture. She is joined by over 44.5 million people who also immigrated to the United States, according to the Migration Policy Institute.
In fact, Andrew Labib, another first-generation American and sophomore, who used to live in Cairo, Egypt, faces the same problem. After moving to Carmel, Labib said he had to overcome language barriers in order to learn English; however, he added he's found bilingualism to be a great asset overall.
"My parents would have a question about how to say this in English because they're not really good English speakers, and (being bilingual) is a good thing," Labib said.
Tawadrous underwent a similar experience as well, as she said she was able to teach her family English she had learned, on top of being able to express herself more fully after becoming bilingual.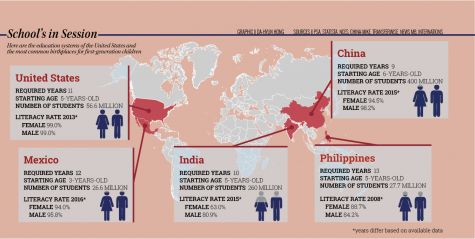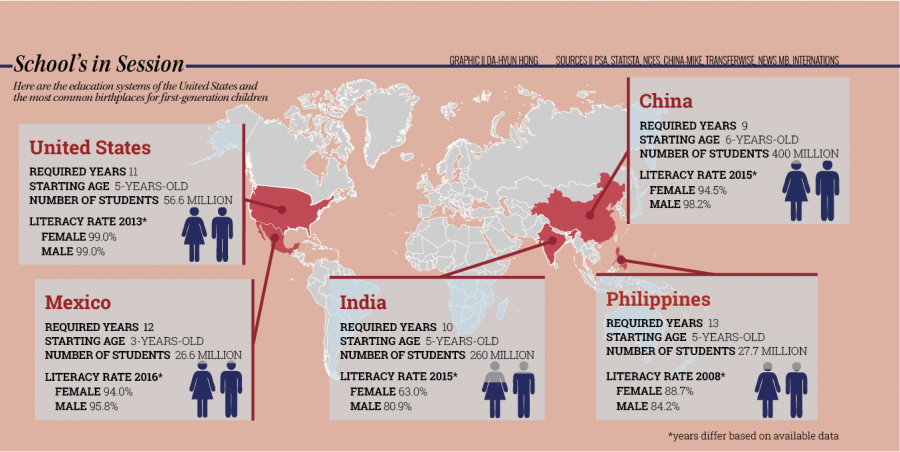 "It was fun to just learn a new language, teach my family English and all of that," Tawadrous said. "I feel comfortable when I speak in Arabic because it's my original language. Sometimes I feel comfortable speaking in English, because I forget the (Arabic) word, like, 'What does it mean in Arabic?' So I'm comfortable talking in both (languages)."
Jennifer Mansberger, English as a New Language (ENL) teacher, said when students learn English they tend to come out more mature and confident than before. She said usually students want to learn the language, and while there may be struggles some students can jump two or three levels in a single year, while others may plateau
Yet while Tawadrous said she agreed with Mansberger on some aspects, saying she felt like she was able to express herself more fully after learning English, Tawadrous added that she sometimes feels judged for her Egyptian culture.
"When I start talking in Arabic, everyone (would) start looking at me for reasons like 'What is she saying?' or the clothes that I'm wearing or how I'm different from them," Tawadrous said. "I don't trust myself or trust what I wear or how I talk."
However, Tawadrous added that she was able to overcome that mindset, saying she realized others didn't care about what she wore or how she spoke as much as she thought.
"I just looked at the people and they don't care about what other people say, so I'd be like 'Why should I care?' It's my choice," Tawadrous said. "I made a lot of friends and just decided to be myself. I don't care about other people's opinions."
In fact, both Tawadrous and Labib both said they felt culture shock after moving to America, due to the difference between their previous environments and Carmel.
Labib said he first noticed cultured differences after moving to America. In contrast to Carmel, where violence is a rarity, near his home back in Egypt, violence was common.
"In Egypt, there would be a small fight and people just (join)and they'd make it even bigger. Some people take some stuff personal in the fight so they (aren't) nice," Labib said. "Here (in Carmel), if there's a fight, people come. They will either calm the people down or they wouldn't get in the fight."
Labib also said classes were structured differently in Egypt, and there was no school lunch in the school he attended in Cairo. Yet Labib said Egypt wasn't all bad either, especially communities in Egypt would often host events for free.
"On Christmas, I saw in one mall here (with) a fake Santa Claus and children would come in for money," Labib said. "In Egypt, that'd be for free and they'd have baby trains for kids to ride for free, too."
In fact, Tawadrous said she sometimes feels nostalgic for her life as a child in Egypt, as she said "my days were spent playing with my cousin (and) just running around like an idiot."
Yet in the end, both Tawadrous and Labib said they feel comfortable in their life in Carmel, even though they both identify as Egyptian American, rather than simply Egyptian or American. Labib added that his transition to America turned out well, even when he was scared at first.
"Some people, when they come here (to America), they will be scared about how people think of them and how their language would affect them and their socializing with other people, but it wouldn't really that much," Labib said. "You get all the help you would need."
Leave a Comment