Students, teacher highlight rise of artificial intelligence
Over the past decade, technology has improved and the introduction of artificial intelligence (AI) and automation has increasingly affected the lives of people around the world. Especially following the COVID-19 pandemic, students and staff at this school have been forced to adapt to changes and incorporate the use of technology into their everyday lives.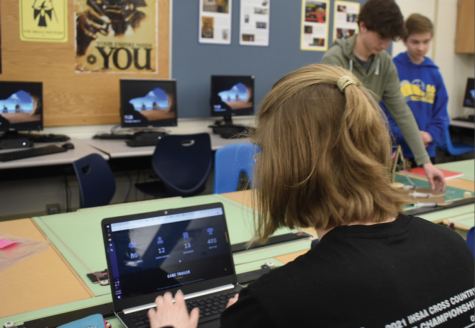 Artificial intelligence, as defined by Britannica, is the ability of a computer to complete tasks commonly associated with intelligent beings. Examples of AI are self-driving cars, social media monitors, and smart assistants. While AI is relatively new, one can only imagine what effect it could have on education. 
Jacob Mack, freshman and Carmel TechHounds member, has a lot of positives on any level of development.
"I think robots in the future will definitely become a normal part of our society, from phone operators to drive-thru workers, it seems interesting to (see) where it could all possibly go," he said.
As a school "run by robots" is a new and somewhat dystopian idea, some students at this school said they are skeptical of the implications of AI and what it might entail.
Sophomore Adi Naren is among the students who question the effectiveness of a fully automated school.
"(Artificial intelligence) really is an interesting thought, in terms of teaching I think hiring actual people to teach would be better because learning would be more personalized and specific to each student," he said.
Naren is not alone in his beliefs. John Dewey, one of many education reformers with a doctorate from Johns Hopkins University and participation in child psychology studies, wrote that students must be recognized as unique individuals with varying interests. He said that those varying passions and backgrounds should be considered more when designing a curriculum, revealing a flaw in complete teaching with artificial intelligence.
While not in a current robotic dystopian state, AI is already used to some degree in schools with standardized tests and diagnostic assessments. They are designed with algorithms, and AI algorithms are different from typical computer algorithms because they program the computer to learn and adapt independently of human coding.
As these algorithms become more advanced, AI becomes more popular, according to Mack.
"AI is becoming more prevalent now because of the huge increase in data volumes, advanced algorithms, and increased computing abilities to help benefit certain companies and corporations."
While this is just a start to the full integration of AI into future schools, it is an example of improvements that come with technology.
Additionally, following the year 2020 with the start of the COVID-19 pandemic, remote learning has become a major idea across schools, even on the state level.
Katie Jenner, Indiana Secretary of Education, agreed that a new system of technology had to arise in order for schools to navigate remote learning during the pandemic.
"[The Department of Education School Tech Plan] was updated for 2022 following a thorough review of the k-12 digital learning and the responsiveness of schools through the COVID-19 pandemic."
At a state level, the new revised Tech Plan is representative of the change as society shifts toward a more digital, remote, world; whether that be positive or negative.
Mack says the integration of AI and automation into schools can, in some cases, have detrimental effects.
"AI could also take away the spots of tutors and change the amount of tutors that can actually get paid," he said.
Tutors are not the only ones who would face challenges. According to the World Economic Forum (WEF), 30% of all tasks in the workforce are automated at this point, and that number will just continue to grow.
Mack said while there are clear benefits in efficiency that come with automation and AI, he is also skeptical of it, and that the negatives can be scary. Naren said while he agrees that the integration of new technologies can be scary, it can also be very optimistic.
"In moderation (AI) could be beneficial. In the ways we already use it, it's good. It could help test kids' skillsets quicker to show teachers what needs to be taught," said Naren.
Assessments are not the only way schools can and could use technology. Researchers at Carnegie Mellon University's Human Computer Interaction Institute are developing a completely automated tutoring system where humans input a few problems and solutions and the computer builds the rules on its own for lessons and techniques. This could make work much less taxing on teachers and still provide students with a one-on-one learning experience as if from a real-life tutor.
Other ways schools use AI is through grading and scoring systems. For example, testing companies like Education Testing Service and Pearson, have automated systems of grading essays. This drives down the costs of grading and unifies grading knowledge to one system. However, this still evokes some concern.
Cyber security is an issue familiar to many, and with the increase in technology use, comes an increased need for better cyber security.
According to Jenner and the Indiana Department of Education, about 30% of school districts said they have enough funding budgeted toward cyber security. 
Naren and Mack both said technology is just going to become more and more prevalent, but they disagreed on the forms it will take.
"I'm not sure that AI will be able to replicate that human empathy that is crucial in schools," Naren said. "I mean, standardizing everything and forcing learning into a cookie-cutter mold is always a risk. There could be room for mistakes."
Leave a Comment