Different But Together
Students, teacher discuss different backgrounds in Unified Track members
Every Tuesday, Wednesday and Thursday, sophomore Tylar Simpkiss meets other Unified Track members in the main cafeteria to prepare for practice. Unified Track is a sport in which athletes, students with cognitive disabilities and their partners, students without disabilities, train and compete for events in track and field.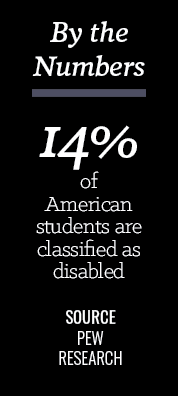 "It's like regular track except there are athletes and partners. We also have track and field events and it's like a normal practice," Simpkiss said. "It's a great way to get to know other people."
Since its first year in 2013, the number of schools competing in Sectionals for Unified Track in Indiana has increased from 13 to 90 teams, according to the IHSAA. Likewise, Unified Track coach Jamie Stephen said the number of Unified Track members here has increased from around 30 to 100 members, although over 200 applications were received this school year.
"The school system has changed a lot. Kids are a lot more accepting, and there are a lot of programs in place to include individuals with disabilities, and it's just a much more inclusive environment," Stephen said.
However, prejudice and stereotypes still exist. Ceci Campbell, Unified Track athlete and junior, said she thinks fewer people approach her because she is an athlete.
"Not everyone relates to me (and) less people talk to me. (I think more) people should just meet me and become friends with me," Campbell said.
Ellie Stock, Unified Track partner and freshman, said while she cannot always relate to an athlete in Unified Track, she tries to find other ways to connect instead.
She said, "I can still try to be understanding and try to put myself in their shoes even if I can't fully relate to their situation. Like, even if they think differently or have different opinions, just always being understanding and remembering that everyone is human."
Along those lines, Simpkiss said the best way to connect with someone different is to ask questions.
"Honestly, just say, 'Hi,' 'How are you?' and 'How's your day going?' and don't be afraid to ask questions when you go up to them," Simpkiss said. "Even if you don't have anything in common, you're still seeing how they see things and I think that's really amazing."
Stephen said she agreed with Simpkiss and said Unified Track lets people of different backgrounds and abilities to compete as a team.
"In our most challenging event, it is four individuals—two with disabilities and two without—who compete as one team to make it around the track with the baton," Stephen said. "One year, one of our typical athletes who did (the event) was not there and we had another athlete jump in who had never done it before, and the partners were able to explain it enough to help that athlete and they still won the race."
Campbell said she encourages other people—athletes and partners—to join Unified Track.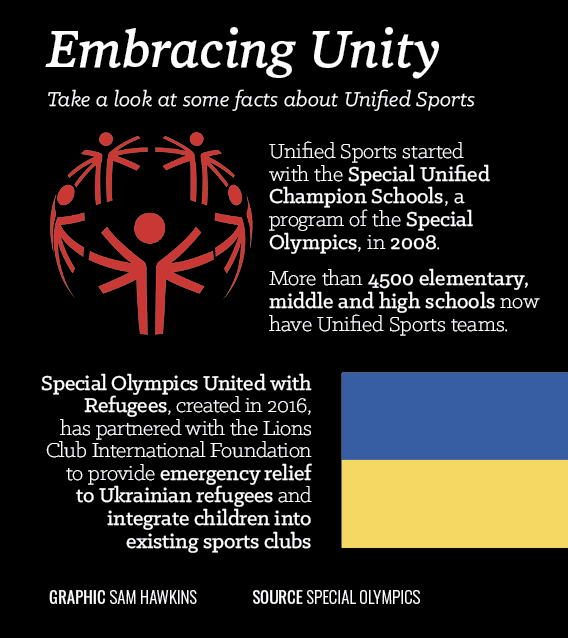 "I think (Unified Track) is a great way to spend time with other people and I think my friends that are not in Unified Track should do it," Campbell said. "It's also a sport that students with (disabilities) can participate in because in regular track and field you have to do it for a long time, and in Unified Track, you don't have to do it for a long time."
For Stock, she said being in Unified Track allows her to see the capabilities of other athletes.
"One thing that always impresses me is how incredibly fast some of the athletes are, and I don't mean that in a rude way, but it's just a reminder that even when you look at people and you don't expect a lot from them, everyone is capable of incredible things," Stock said.
Ultimately, Stephen said Unified Track is a real team sport that requires athletes and partners to work hard together.
"We have the same criteria as other sports," she said. "Some people come in thinking they can slack off, but especially for the athletes and also the other partners, you have to be willing to give 110% for the team."
Leave a Comment