The Code
Religion influences 'Star Wars', students' lives in various ways
One of the core themes of the Star Wars universe is that of religion. Similar to the real world, numerous religions with a wide variety of beliefs and practices exist in Star Wars. One of the most famous examples of this is the Jedi Code that the Jedi must follow. According to Screen Rant, this includes limiting personal attachments. The strict nature of the code famously led to the eventual fall of the Jedi Knight Anakin Skywalker. However, it is through the same code that his son Luke Skywalker is later able to become powerful in his own right and help his father earn redemption.
Although not as dramatic, many real-life religions also carry spiritual messages and have rules their adherents must follow. Several of these religions influenced George Lucas, creator of Star Wars, and served as the inspiration for many of the elements present throughout Star Wars. According to Lancaster Online, Lucas combined aspects of East Asian religions with the beliefs and practices of his Protestant background. According to CNN, "the saga blends aspects of religious traditions."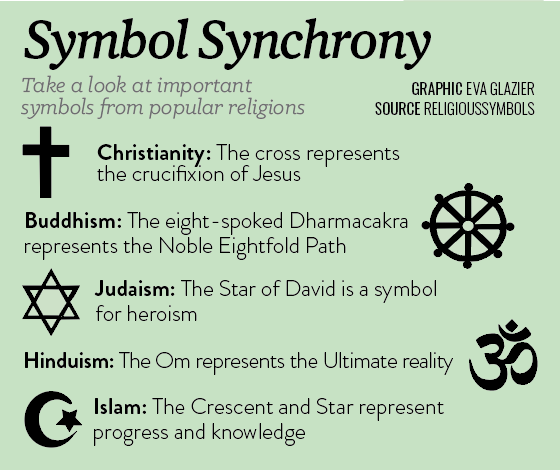 One of the largest religions today is Christianity. CHS has a chapter of the organization Fellowship of Chrsitian Athletes (FCA). FCA sponsor Connor Bradley, said FCA is an organization that gives students—(not just athletes)—the chance to gather with others who share in their same beliefs in order to learn and discuss their faith and how to live out their faith in a way that serves and loves others well.
"FCA meets every Friday morning and it's a consistent chance for the students to meet with one another and just share and grow together," he said. I think many students come to FCA because they want to grow in their faith and live a life that reflects Jesus – one that serves others and shows others the love of Jesus. FCA provides a space for that within the school. For example, this semester the students have been studying the Fruits of the Spirit – things like love, joy, peace, patience, kindness, goodness and more. It gives them the opportunity to discuss, share and encourage one another to live out their faith in a way that reflects those things to others."
Bradley also talked about how Christianity enriches and improves the lives of the FCA members.
"When it comes to Christianity, we are striving every day to grow in our relationship with Jesus and be more like him," he said. "FCA is a tool to help the students do just that. And it's not a straight, upward-trajectory growth path where everything always goes right or where someone is perfect. There are ups and downs in life – but it's what you turn to in the ups and downs. When the students keep their faith in mind as the big picture, live out their lives in love and service toward others, and allow things like joy, peace, patience, and kindness to be in the forefronts of their minds, it not only helps them but all those with whom they come in contact."
"I think there are different levels in terms of how far along different students are in their journey of faith, but everyone is on a different journey at different speeds," Bradley added. "The beautiful thing about it is that these different experiences come out as the students share with each other about their faith and how they've seen it play out or applied in their daily lives."
Junior Mackenzie Edwards is a regular attendee of FCA meetings who identifies as a nondenominational Christian. She said her religion forms an important part of her identity and has had a positive effect on her life.
"I'm pretty religious because I want to be faithful to my God and trust his word and be obedient," she said. "I try to have my life centered around it as much as possible. I fail often, but I want God to be at the forefront of my mind all day and have everything I do be through him and honor his plan. I have less anxiety now than when I wasn't religious, and I'm nicer to those around me and I'm able to find more joy in my life."
Edwards said her favorite part of her religion are its central ideas.
"My favorite thing is that Jesus died in order to save me, and I didn't even have to do anything. I just have to accept him as a part of my life, and I get to spend an eternity in joy with him," she said.
Senior Imaan Hassan identifies as Muslim. She said her religion is moderately important to her.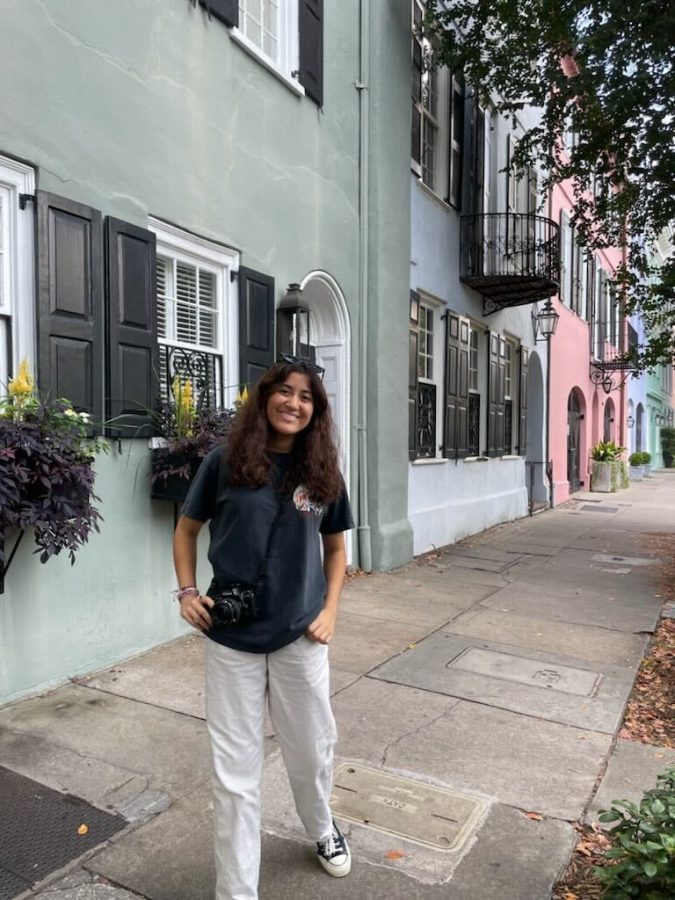 "I would say that I am at an average level of religiousness," Hassan said. "I grew up attending Sunday School and my mom is pretty religious as well so those two things helped shape my beliefs and made it so that my faith was a constant in my life. Religion does affect my decision making and some of my life choices but I wouldn't say that it's something I am constantly thinking about or cultivating like many other people. [It] does mean a lot to me as it's influenced my belief system and a lot of my morals but I wouldn't say it's at the core of my being like it is to some people. I think I'm still trying to figure out my faith's place within my life like so many other young people, so it's meaning to me will definitely change as I grow up and gain different life experiences."
Hassan said her favorite part about her religion is Eid, a holiday that marks the end of Ramadan.
"At the end of Ramadan, which is our month of fasting, we have a holiday called Eid. It's the day after our last day of fasting and it's always such a fun and joyous day because you're surrounded by family and friends. We usually go to the mosque in the morning for Eid prayer and then throughout the day people are having lunch and dinner parties so it's always a day to remember. It's nice to end off a challenging but great month in that way and it's something I always look forward to." she said.
Overall, Hassan said her religion has had a positive effect on her life. "Religion has a pretty positive effect on my life because it challenges me to be a better person at my core and to reflect on my life decisions and purpose. There's obviously been times where I've questioned my religious beliefs and where I've found it hard to follow Islam's practices, but at the end of the day, it has helped me grow into a better individual," she said.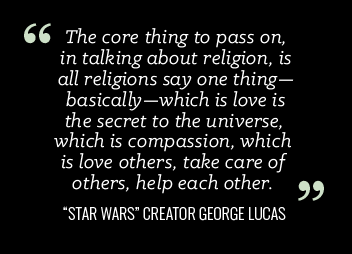 Hassan said she believes that the structured and spiritual parts of religion complement each other.
"For me, I believe in both the spiritual and strict sides of it. I think religion can be interpreted and viewed in so many different ways it just depends on the person," she said. "Following the more strict rules of religion gives me insight into the spiritual side of my faith because it gives me time to think about why something is a rule and what I'm gaining from following that rule or practice. So I think that when I implement those more strict religious practices into my life it lends itself to spiritual discovery."
Her sentiments are similar to Lucas's own sentiments about religion and spirituality. Lucas himself said "The core thing to pass on, in talking about religion, is all religions say one thing—basically—which is love is the secret to the universe, which is compassion, which is love others, take care of others, help each other."
He said part of the reason for the making of Star Wars was for a religious awakening in the masses.
"I put the Force into the movie in order to try to awaken a certain kind of spirituality in young people," he said, "more a belief in God than a belief in any particular religious system."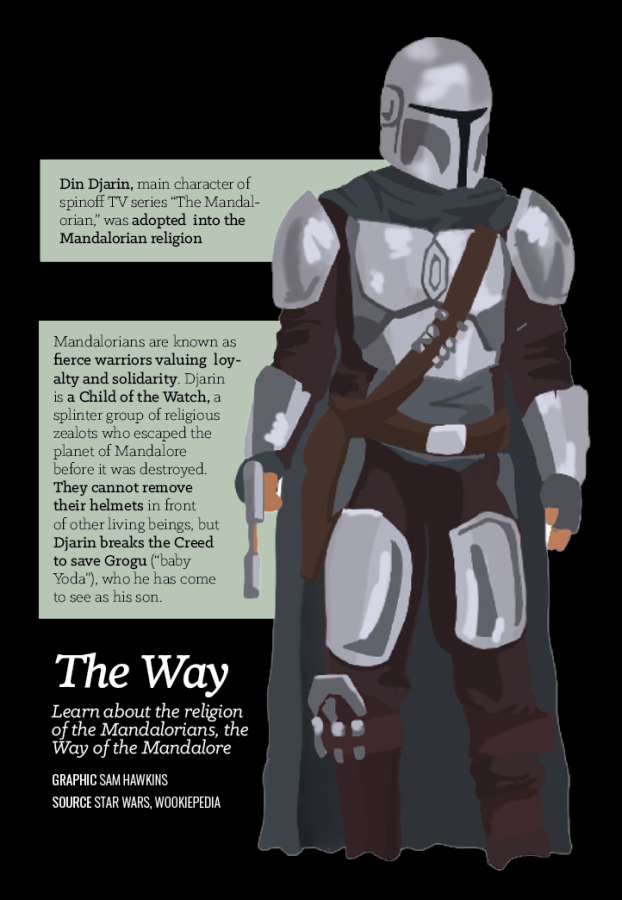 Leave a Comment